by Beth Cronk, Meeker County Librarian
Summer activities continue in August for the Cosmos Public Library. The summer reading program, Read Beyond the Beaten Path, runs through August 20th. Children and teens can continue to sign up until that day, if they haven't had a chance to start earlier. The 20th is also the last day to pick up a reading sheet for the program. Kids can continue turning in sheets for prizes until the end of the month.
Take-Home Tuesday will be available starting on August 9th, with a STEM activity. Wooden boat kits will be available for kids to pick up, while supplies last.
August 16th will be the date for Teen Take-Home Tuesday. Teens can stop by the library to pick up kits to make dream catcher key chains. One per person, while supplies last.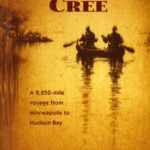 At 10 a.m. on August 18th, the library is offering another great program presented by the Minnesota DNR. Canoeing with the Cree is a classic book about the trip Eric Sevareid and Walter Port took along the entire length of the Minnesota River on the way to Hudson Bay in the summer of 1930: a total of 2,250 miles. Scott Kudelka will talk about that trip, as well as some who have made the trip in the past 15 years, including the first two women. The program will be held in Cosmos City Park, weather permitting. Bring a chair or blanket to sit on. In case of inclement weather, it will be moved to the city hall community room. This program is for all ages.
Copies of Canoeing with the Cree are available to check out at Cosmos Library for those who would like to know more about it before or after the program.
On Saturday, August 20th, library staff will offer storytime in the library at 10:30 a.m. Children of all ages are welcome to attend.
The final Take-Home Tuesday of the summer will be on August 23rd. Kids can stop in to pick up a basket-weaving craft while supplies last.
Participation in the summer reading program is up this year over the past couple of years, and we're excited to see all of the kids. If you haven't made it in yet this summer, stop in to see the fun decorations and to sign the kids up for the program. Many good prizes are available to choose from when kids turn in their completed reading sheets. Keep them reading all summer, and they'll be ready to go back to school this fall with their reading skills in good shape!
Cosmos Library is open Mondays 10-5, Tuesdays 2-5, Thursdays 2-6, Fridays 2-5, and Saturdays 10-1.