by Beth Cronk, Meeker County Librarian
Many exciting new things are happening at the Cosmos Public Library these days. From fine-free youth materials to laptops to bring home, there's a lot to check out!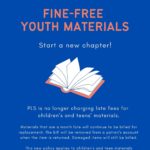 As of early January, Pioneerland Library System has eliminated late fees on all juvenile and teen materials. This includes books, CDs, and DVDs with call numbers beginning with E, J, B, and YA. The new policy applies to library materials for children and teens, regardless of the age of the library cardholder. Youth materials that are a month late will continue to be billed for replacement, as will damaged materials. Have old fines on kids' materials? Talk to a library staff member about clearing those.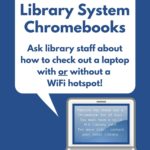 Cosmos Library is now offering laptops for checkout. With a valid library card, anyone can check out a Chromebook for four weeks and take it home. Need internet with that? Mobile internet hotspots are now available to check out at Cosmos Library for four weeks; they provide wi-fi at home for computers, tablets, and smartphones. Signal strength varies in the area, so you'll have to try the hotspots to see how well they work at your house. One laptop is still available for in-library use, as are desktop computers.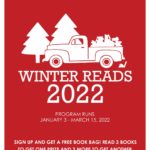 The adult winter reading program is underway at the Cosmos Library, running until March 15. Participants in Winter Reads 2022 get a book bag for signing up, while supplies last. After reading and rating three books, participants can choose a prize, and after three more they can choose an additional prize. Prizes this year include coffee mugs, travel tumblers, carabiner key chains, bag clips, lip balm, extra-large candy bars, and book lights. The program can be completed entirely via curbside pickup if desired.
Cosmos Library offers Take-Home Tuesday once a month. Each month a different craft kit for kids is available to pick up and complete at home. Watch the library's website at cosmos.lib.mn.us or the Facebook page to see when each month's craft is available.
The Star Tribune is now available to read in the library or to check out for three days. It comes by mail, so there is sometimes a slight delay in receiving it.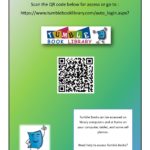 Pioneerland Library System has a new subscription to Tumble Books, a collection of animated, interactive, and read-along picture books for children. These fun, high-quality e-books can be accessed through the library's website or through the Tumble Book Library app. Visit www.pioneerland.lib.mn.us and look for the tumbling book image on the left.
Cosmos Library is open Mondays 10 a.m.-5 p.m., Tuesdays 2-5 p.m., Thursdays 2-6 p.m., Fridays 2-5 p.m., and Saturdays 10 a.m.-1 p.m.